Why Not Exercise Tomorrow in Paris? or Rome? or Egypt?
Or on the Amalfi Coast or in a lush green forest in Ireland?
The time spent exercising on your treadmill or indoor bike will never be boring again!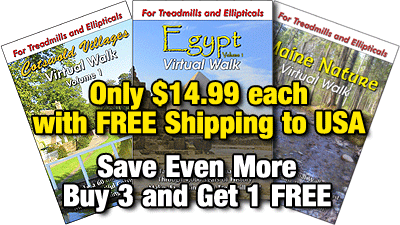 We've spent the past 14 years filming Fitness Scenery Videos and DVDs all over the world so your exercise sessions will be fun and you'll enjoy every minute! You can maintain your fitness and exercise in over 30 beautiful and historic locations around the world including Italy, France, Egypt, Greece, Canada, Turkey, the United Kingdom, Ireland, and the USA. And all of our Fitness Scenery Videos are shot with professional High Definition Video Cameras using Camera Stabilization Equipment!
All our Fitness Scenery DVDs are only $14.99 each - and if you order 3, you'll get one more FREE, order 5 and get 2 more FREE, order 8 and get 3 more FREE, and order 10 and get 5 more FREE. Plus FREE shipping in the USA and only the actual postage charge for International Shipping - NO Handling Fee! Click Here to Order.
The difficult part may be selecting where in the world you'd like to exercise.
If you're interested in history then perhaps you'd like to exercise by walking through the most historic locations in Rome: the Ancient Roman Forum, the Palatine Piazza Navona, the Pantheon, the Trevi Fountain, and the Coliseum.
If you like quaint villages, then you'd probably like to exercise by walking through five different beautiful villages in England's Cotswolds. And best of all, you can choose between Cotswold Villages Walk Volume 1 or Volume 2!
If you like Nature, then choose one of our numerous Nature Walks - possibly our Maine Nature Walk which follows a fast running stream in the Maine forest, or our Florida Nature Walk which takes you deep into a Cypress Swamp, or even our Ireland Nature Walk which takes you through the grounds of an Irish Estate.
If you like to travel, then choose from our "Walking Tour Series." You can tour Venice, Paris, Rome, Athens*, London*, or Istanbul."
For our complete list of Fitness Scenery Videos, please refer to the column on the right.
---
Fitness Scenery Videos filmed in Scotland, Ireland, and England
And along Canada's scenic Nova Scotia coast plus numerous locations in the United States.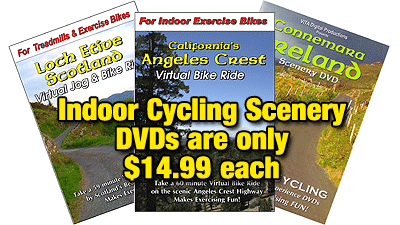 For indoor cyclists, we have an ever growing catalog of Fitness Scenery DVDs for indoor Bikes from which to choose. You can cycle in Scotland - either in around Loch Etive or in Scenic Argyll, in Ireland - either in Connemara or County Clare, in England's Devon and Cornwall (coming soon), and in California's Angeles Crest Highway, in Mississippi on the Natchez Trace Parkway, and in North Carolina's Blue Ridge Parkway.
One Customer who purchased our Scenic Argyll Cycling Scenery DVD on our Amazon.com store said, "This DVD is just what I was looking for - something that would mimic going for a ride in the country. I know there are other dvds out there that offer multiple timed rides at a variety of speeds. But the more it seems like an exercise routine, the less likely I am to use it. The route is very picturesque, complete with the sounds of nature you are passing by. The quality of the picture is so good it makes me feel like I am on the road instead of in my living room. In fact at one point it looked like we might miss the curve we were coming up on and my reaction was to put on my brakes. It certainly takes the boredom out of exercising. I take care of my mom and she enjoys watching the dvd while I am on my bike, which allows me to use it more often. She has even told me to "slow down" or "be careful" a time or two. I will definitely be purchasing more of VITA Digital Productions' bike rides in the near future. Catherine L. on September 4, 2014"
Another VITA DVDs Customer wrote, "Five years ago I was critically injured while biking. I have had numerous knee and facial surgeries. I lost all the ligaments in the left knee when I got staph after the third surgery on the left leg. I can't play hockey, ski, or run anymore but I can still bike. Thank God. Your videos are a blast and far safer. Thanks, Mark J."
---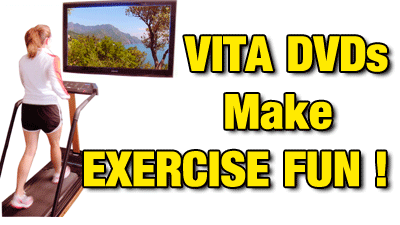 One Customer who ordered 2 of our Fitness Scenery DVDs wrote, "I am enjoying the first two videos so much and my weight loss is simply PHENOMENAL! I am placing orders for 7 more in order to take advantage of your marvelous sale! Please know that this has been a grand adventure. The people I work with thought I was crazy when I told them I was either going to Hawaii or Maine tonight. Wait till they hear about my new adventures:) Once again thank you for providing this blessing. Regina"
Another Customer wrote, "I so loved walking thru the Cotswolds, that I bought 3 more of your dvds. Last night we walked through Egypt, awesome! Seine River Cruise was lovely, but we prefer the natural sounds to the music soundtrack. Hearing the actual sounds helps the virtual travel experience, it's almost like Star Trek's Holodeck! Thanks for a great product.... I hope your Pompeii dvd is available soon. We'll be back.... Peggy, Franklinville, NJ"
To read even more VITA DVDs Customer Reviews, please click here.
Our VITA DVDs' Treadmill and Cycling Scenery Videos will motivate you to exercise longer and enjoy every minute - you'll actually look foward to your exercise sessions! One customer wrote, "For once, 1 hour of exercise was enjoyable and I never looked at the display board once." Another said, "I actually look forward to exercising while watching Vita dvd's." Our DVDs and Downloadable HD Videos take the boredom out of exercise. In fact, they are so full of details that you'll notice something new every time you use them. So instead of watch ordinary TV - or heaven forbid... the news, put a VITA DVD in your player and enjoy walking in Paris, London, Rome, Venice, or in the villages of Provence while you exercise.
VITA DVDs was the first company to film and produce Treadmill Scenery Virtual Walk Videos starting back in 2000. We also supply High Definition Stock Footage to Television and Motion Picture Production companies around the world. Our tripod footage has been purchased and shown in documentaries, commercials, and motion pictures on almost every major TV and Cable Network around the world including the BBC, ABC, NBC, CBS, the CBC, the History Channel, the Biography Channel, A&E, National Geographic Channel, Hulu, and Netflix, among others.